In 1824, a young boy sat to have his silhouette drawn. He was the twentieth child of a London stockbroker, Jeremiah Lear and his wife Ann. The boy lived with his older sister, who taught him how to write and draw. The young boy's name was Edward Lear.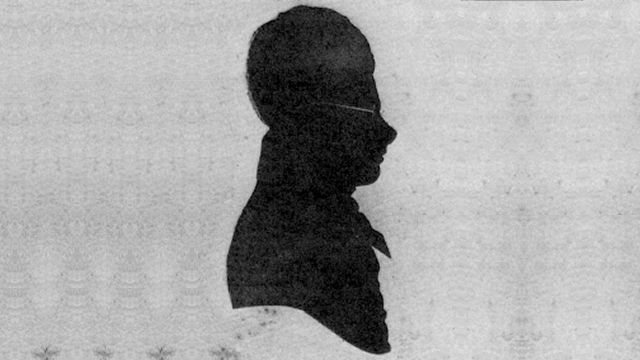 Silhouette Of Edward Lear As A Boy
Throughout his life Edward Lear was affected by ill health. He was an epileptic, and also suffered from bouts of depression. He named his epileptic attacks "the Demon", and he called his bouts of depression "the Morbids".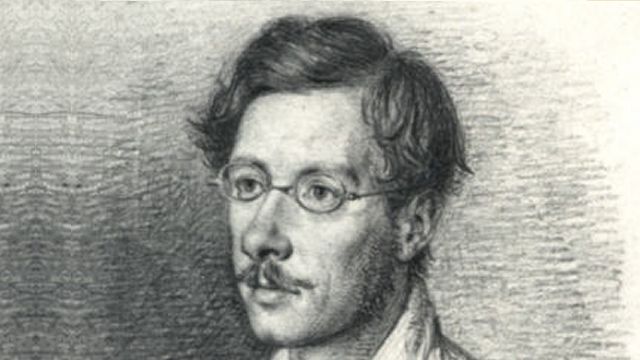 Edward Lear As A Young Man
For much of his life Edward Lear traveled widely, to paint and in search of warm weather for his poor health.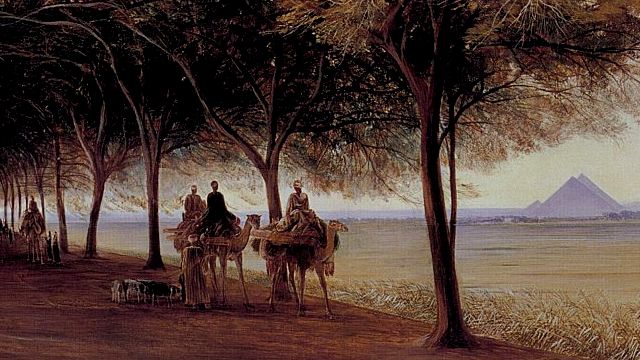 Edward Lear's Landscape Of Egypt
Whilst still in his teens Lear earned a living teaching drawing, and selling his own work.
| | | |
| --- | --- | --- |
| | Edward Lear And His Natural History Painting | |
In 1830, Edward Lear was given permission by the Zoological Society of London to draw their parrots.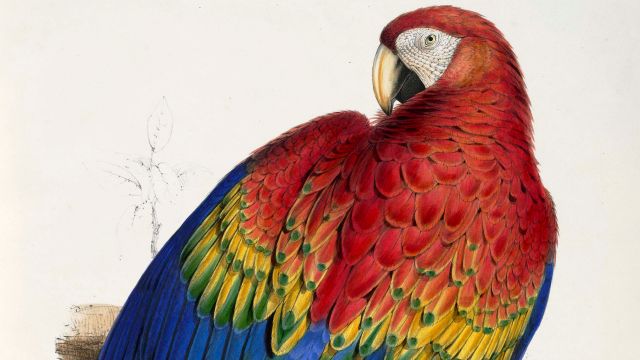 Macaw Painted By Edward Lear
When Edward Lear's illustrations of the parrots were published they were very impressive and well received. Lear had gained a reputation for his natural history work.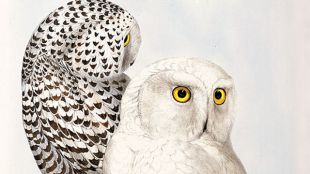 Snowy Owl (Nyctea scandiaca) By Edward Lear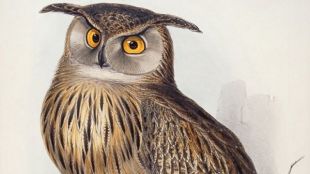 Eagle Owl (Bubo maximus) By Edward Lear
In later years a bird was named in honour of Edward Lear, it was called "Lear's Macaw" (Anodorhynchus Leari).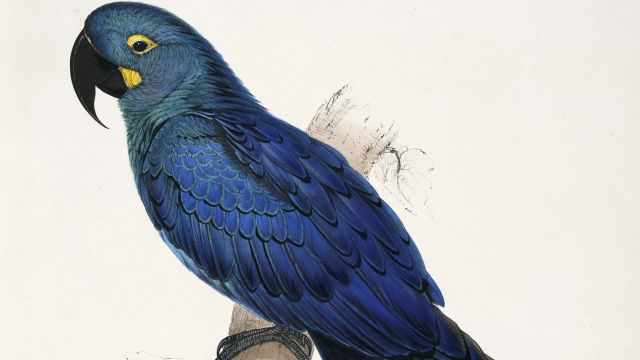 Lear's Macaw (Anodorhynchus Leari)
In 1832 Lear was invited to Knowlsey Hall, to draw the zoological collection. This menagerie of animals and birds was very large, with over twenty staff.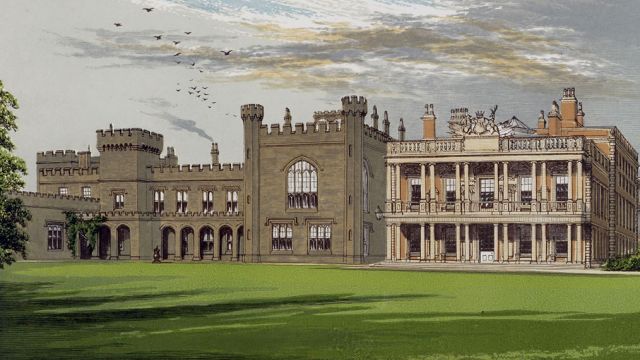 Knowlsey Hall
The owner of the collection was Lord Stanley, the 13th Earl of Derby, who was the President of the Zoological Society.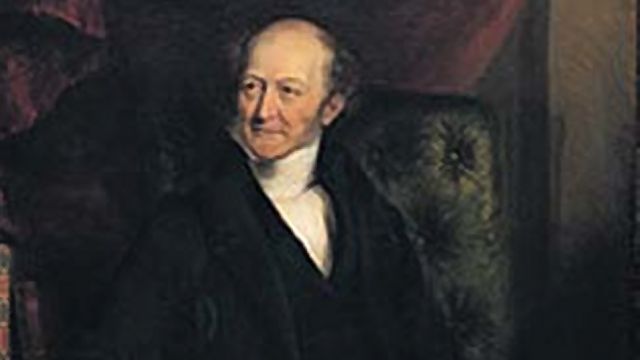 Lord Stanley, The 13th Earl Of Derby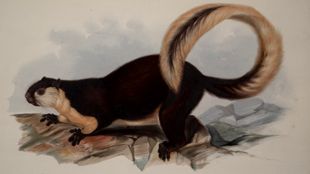 Lear's Painting Of An Animal From The Menagerie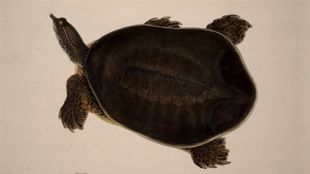 Lear's Painting Of A Turtle
Lear spent four years drawing the animals at Knowlsey Hall. Although he was an employee, he became a frequent guest at family events. Lear's wit impressed Lord Stanley and he was invited to dine with Stanley, his family and friends, rather than the servants. Edward Lear also entertained the children with his humorous poems, jokes and sketches.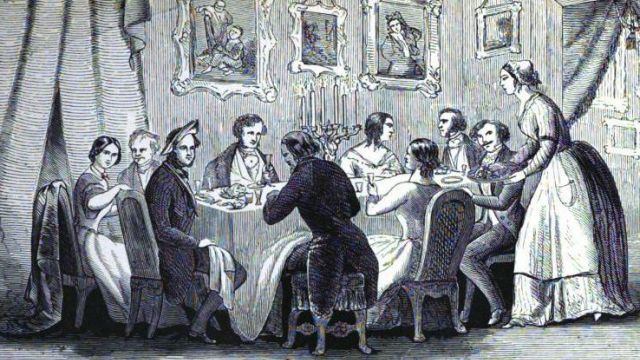 A Victorian Dinner Party
This period at Knowlsey Hall changed Lear's life forever, as he met many people with influence, who would support his work. It also saw the end of his natural history illustrations. The close work that was needed affected both Lear's eyes and also his health. Due to this, Edward Lear decided to start painting landscapes instead.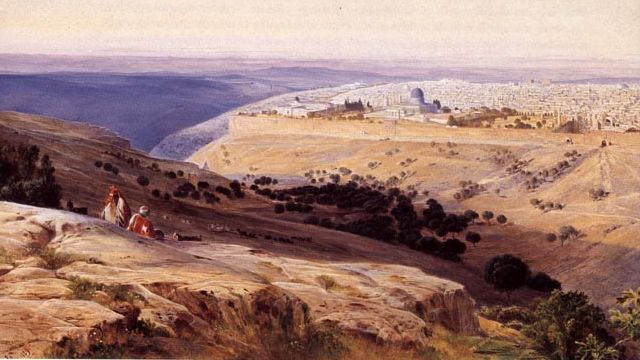 One Of Edward Lear's Landscapes
| | | |
| --- | --- | --- |
| | Edward Lear's "A Book Of Nonsense" | |
In 1846, Edward Lear published "A Book Of Nonsense", using the name "Derry Down Derry". Lear dedicated the book to the children of Knowsley Hall.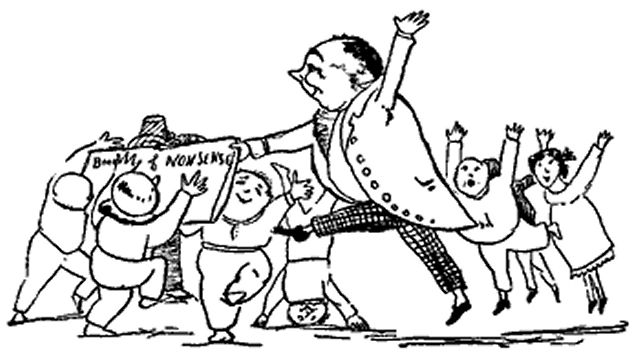 A Picture Of Lear As 'Derry Down Derry'
"A Book Of Nonsense" was a collection of limericks. Lear did not invent the limerick, as many people believe, but he popularized the verse form. In fact Lear never used the term limerick, instead he referred to his work as, "nonsense rhymes".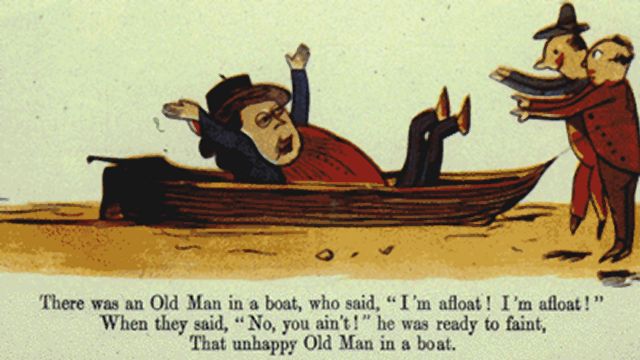 One Of Edward Lear's Limericks
Lear often used the word "runcible" in his poems. Runcible, is a nonsense word that Edward Lear invented, and it does not really mean anything.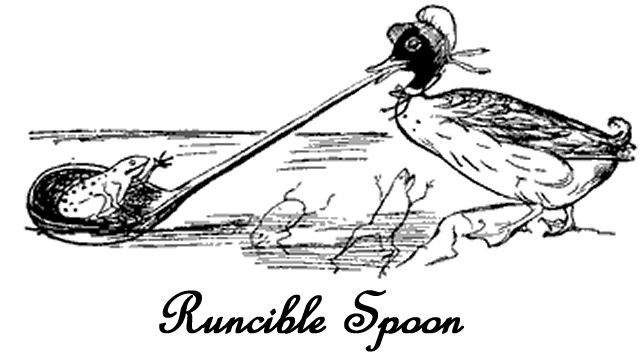 A Runcible Spoon
In the same year that "A Book Of Nonsense" was published, 1846, Edward Lear gave the young Queen Victoria twelve drawing lessons.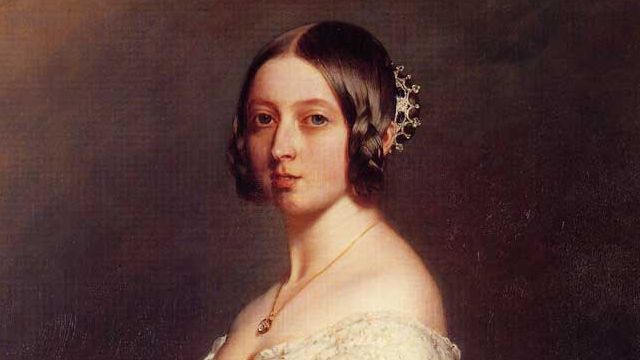 Queen Victoria When Young
Lear accidentally caused mayhem by not observing proper court protocol.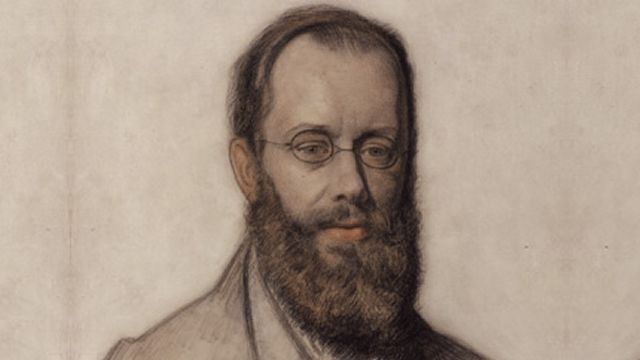 Portrait Of Edward Lear
In 1861 "A Book Of Nonsense" was published. This time it appeared under Edward Lear's real name.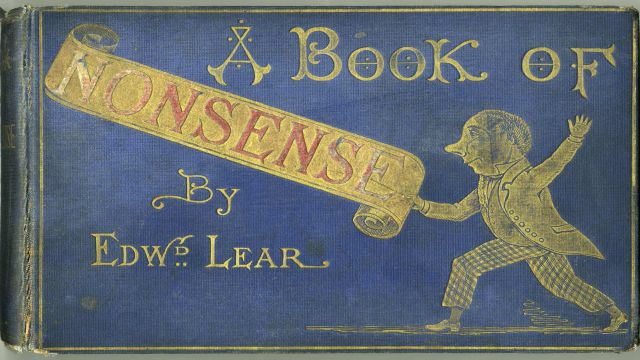 Lear's Book Of Nonsense Published Under His Real Name
Some people believed that the name "Edward Lear" was another made up name and the author was someone else. The theory was that the author was really Lord Stanley, the 13th Earl of Derby, whose name was also "Edward" and that "Lear" was just an anagram for "Earl". The reason for this was the book's dedication:
TO THE GREAT-GRANDCHILDREN,
GRAND-NEPHEWS, AND GRAND-NIECES
OF EDWARD, 13th EARL OF DERBY,
On one occasion, to prove that the name "Edward Lear" was real and that he was indeed him, Lear had to show a doubter his name written inside his hat.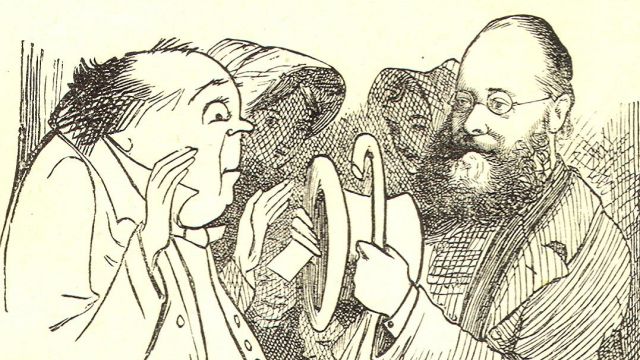 Edward Lear Proving Who Is By Showing His Name Written In His Hat
Over the years Edward Lear published other books of nonsense rhymes.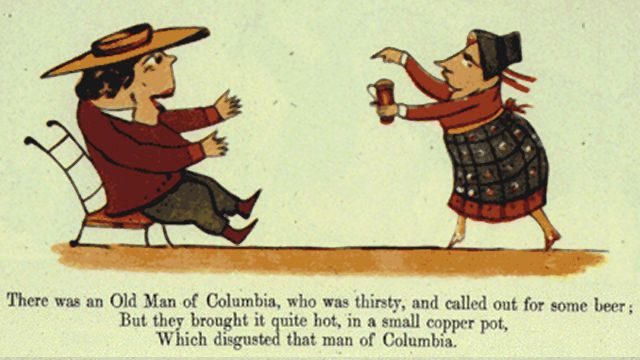 One Of Edward Lear's Limericks
In 1867, Lear wrote his most famous nonsense poem, "The Owl And The Pussycat".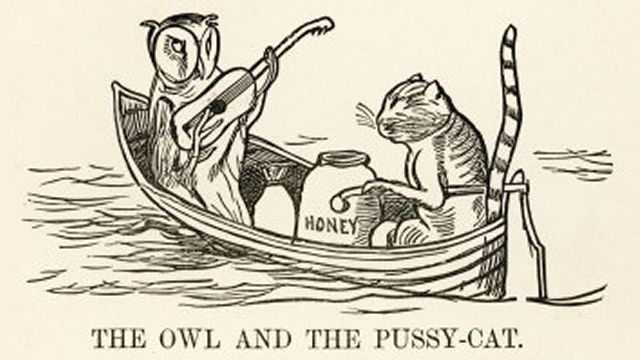 The Owl And The Pussycat
In 1871 Edward Lear settled in San Remo, Italy. With him came his Albanian "servant and friend" Giorgio Cocali, who was his companion for nearly thirty years. After Giorgio Cocali's death his sons would carry on his work for Lear.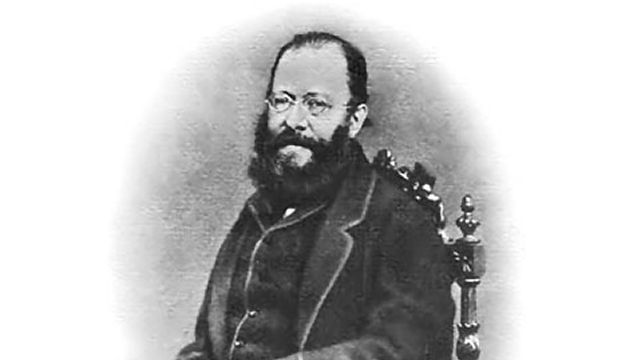 Edward Lear Seated
In 1872 there was a new arrival in Edward Lear's life. He was a cat called "Foss".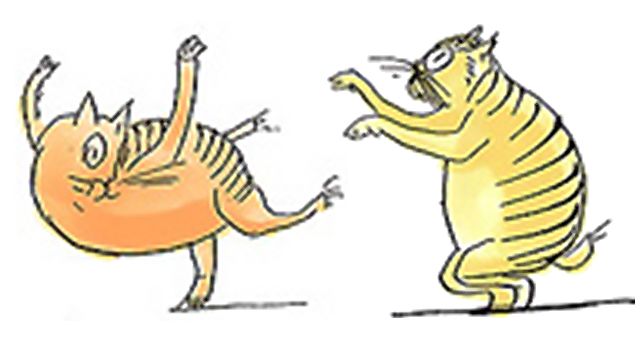 Edward Lear's Cat Foss
Foss had only half a tail. A servant had cut it off thinking that only having half a tail would would stop Foss from straying.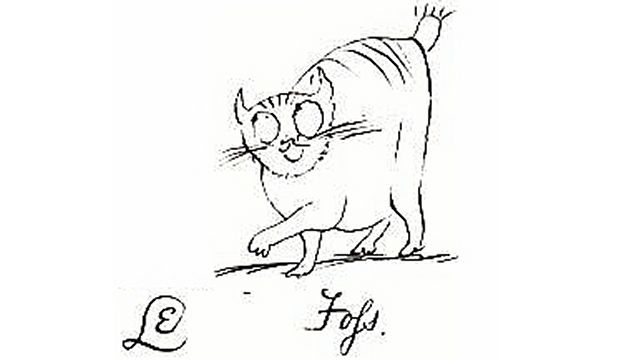 Edward Lear's Cat Foss
Foss was a large tabby cat with stripes a bit like a tiger. Lear doted on Foss, who apparently was not the most attractive of animals.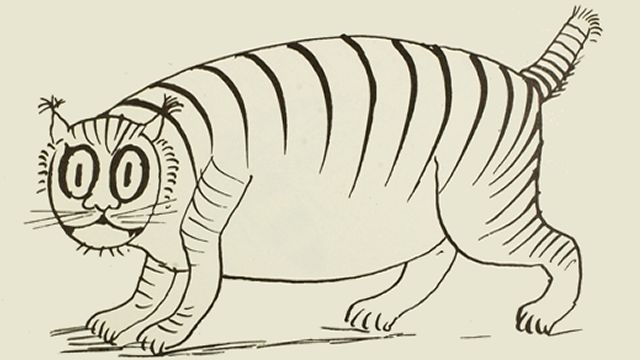 Edward Lear's Cat Foss
It was said that when Lear built a new house, it was identical to his old one. The reason for this was that Foss would settle in easily. His original house had lost its views after a large hotel was built. This new house was close to the sea, where it was said that "nothing could interrupt his light until the fishes built".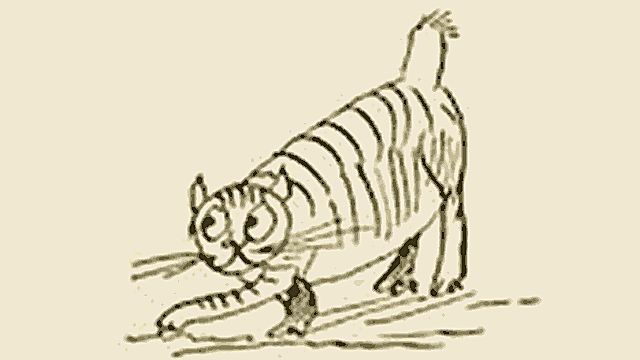 Edward Lear's Cat Foss
One of Edward Lear's friends was the poet Alfred, Lord Tennyson. He named his new home "Villa Tennyson".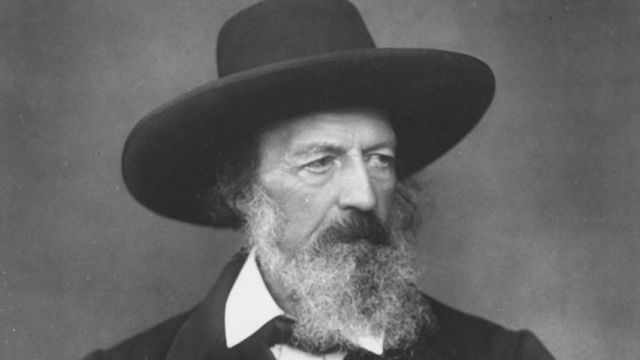 The Poet Tennyson, One Of Edward Lear's Friends
In this their last home Edward Lear and Foss lived a quiet life. Lear became very reclusive and he often hid away from visitors.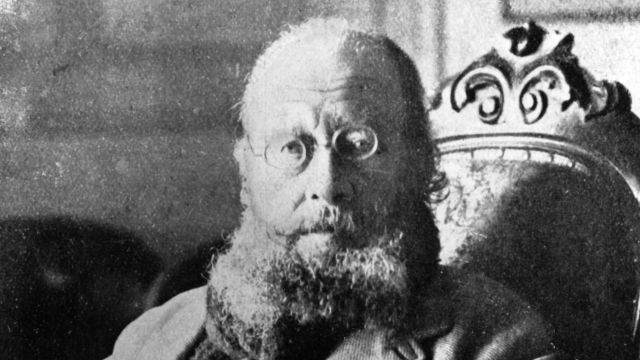 Edward Lear As An Old Man
| | | |
| --- | --- | --- |
| | The Death Of Lear And Foss | |
On 26th September 1886 Foss died, and after a ceremony he was buried under a tombstone in Edward Lear's garden.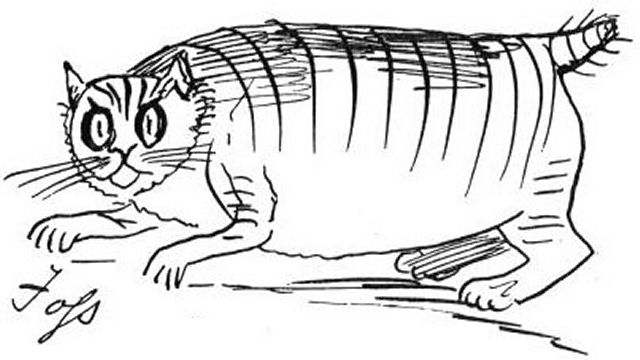 Edward Lear's Cat Foss
On 29 January 1888, Edward Lear died of heart disease, his health had been in decline for sometime.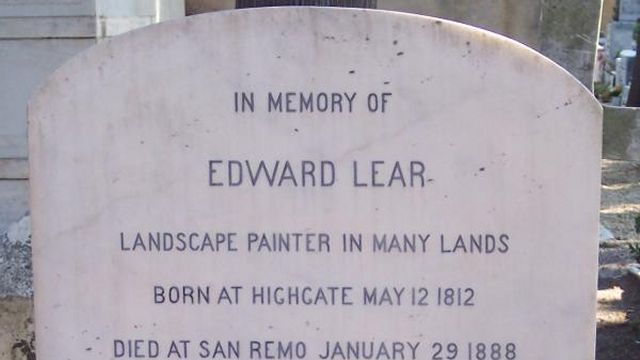 Edward Lear's Grave
Edward Lear was laid to rest in a simple grave next to a monument to his servant Giorgio Cocali and his son Nicola Cocali's grave.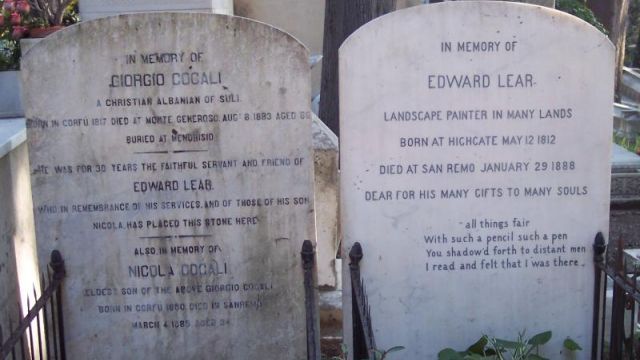 Edward Lear's Grave
Edward Lear's funeral was a very quiet ceremony, as most of his acquaintances could not attend.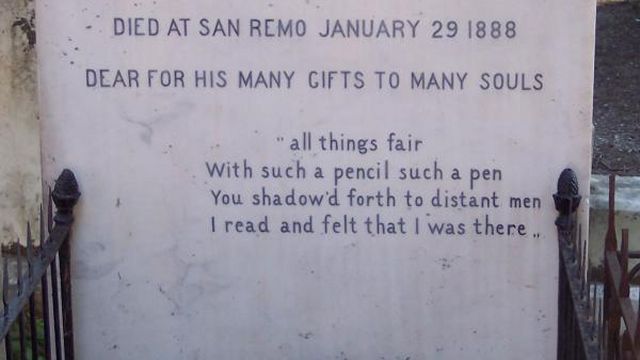 Edward Lear's Grave
Thus we end our tale, and bid a fond farewell to both Mr Lear and Foss his cat.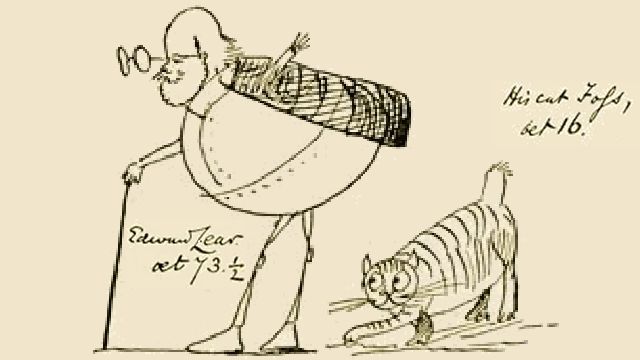 Edward Lear And His Cat Foss